Save the Date Shadow Box Wedding Gift
I ended up designing Bestie's Save the Date following the state shape trend.


She had them printed as a 6 x 6 at Ritz Photo, and mounted them on card stock, and stuck them in a pink envelope.
I did a few other crafty thing for the wedding, but when it came to coming up with a crafty wedding gift I was stumped.
After I made the Pooh shadowbox wall art for Mom and Dad, I had the perfect idea, a "Save the Date" inspired shadowbox. Since the font I used for the Save the date was so skinny (Ostrich Sans) I decided to simplify it.
The shape is from the 50 States Cricut Cartridge, it's mounted using several layers of foam tape, and the 'heart' is over the wedding location in Fort Lauderdale. The date is mounted directly to the 12 x 12 black cardstock.


Note: I did go back redo the numbers, since in this photo I realize just how crooked that 7 was… and of course a sappy sweet message was written in paint pen on the back =)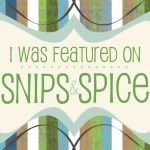 This post is partying here.