Lasagna the Kirsti Way
A's family is pretty darn sweet, so sweet in fact the we gather at his Granny's house on Thursday evenings for dinner. This past Thursday I volunteered to bring dinner, before pondering what exactly would travel the 30 minute drive well enough to not have to mess with reheating. Lasagna was the perfect solution, and it arrived pretty darn warm even though it took us over an hour to get there thanks to my Pyrex portables carrier and microwave hot pad. (Nashville apparently forgot what tiny bit they knew about driving in the rain during our mini drought).
I wouldn't call this a 'skinny' recipe, but it's definitely better than others since it uses lean turkey sausage and skim ricotta, I and A's family thought it was a nice balance and didn't even know it was a little 'skinnied' until I told them.


Lasagna the Kirsti Way
View Printable Recipe.
Makes one filled to the brim 13 x 9 Pyrex.
Marinara Sauce
(
Adapted from Serious Eats Marinara
)
1/4 cup Extra Virgin Olive Oil
56 oz. of canned tomatoes (I used one 28 oz. can of whole tomatoes and 2 14 oz. cans of Italian Diced)
1 Medium Onion Diced
4 Medium Cloves of Garlic Pressed
2 Microplaned Baby Carrots
1/4 Tsp. Dried Oregano
1/4 Tsp. Crushed Red Pepper
1 Tsp. Dried Basil
Fresh Italian Flat Leaf Parsley to taste
Salt & Pepper to Taste
Lasagna
6 Lean Italian Turkey Sausage links Casings removed (1 1/4 Lbs. I used Jenny-O Lean Sweet)
9 Lasagna Noodles
15 oz. Skim Ricotta
1 cup Grated Parmesan
2 Cups Shredded Mozzarella
1 Egg
1/2 cup Snipped Fresh Italian Flat Leaf Parsley to taste
For the Marinara:
1. Heat 1/4 cup of olive oil in a nonstick large sauce pan over medium heat. If using whole canned tomatoes, using clean kitchen shears snip them to in smaller pieces while still in the can.
2. Add diced onions and good about 5 minutes to soften.
3. Add
microplaned
carrot and
pressed
garlic. Let cook about a minute.
4. Add canned tomatoes, and dried spices. Stir.
5. Bring to a steady shimmer, and cook for 1 hour, stirring occasionally.
6. Remove from heat, add salt, pepper, and snipped parsley to taste.
For the lasagna:
1. Prepare lasagna noodles per instructions, or use the bakable kind.
2. Heat a large deep skillet over medium heat. (A's parent's got me this
Kitchen Aid one
for Christmas, it is my favorite pan ever!)
3. Break up sausage and add it to the pan. Cook thoroughly to 165. Use a spoon to ladle out most of the fat. Remove from heat. Add a few spoon fulls of marinara to the sausage, leaving enough marinara to coat the bottom of the pan and the top of the lasagna.
4. While sausage is cooking combine your skim ricotta with your egg, grated parmesan, and snipped fresh parsley.
5. Layer your lasagna in your dish. I did it this way from Bottom –> Top.
Bottom
Marinara
Noodles
Mozzarella Sprinkle
Ricotta
Sausage/Marinara
Mozzarella Sprinkle
Noodles
Mozzarella Sprinkle
Ricotta
Sausage/Marinara
Mozzarella Sprinkle
Noodles
Marinara
Top
Mozzarella Sprinkle
(Note: if you use an offset spatula to 'level' your ricotta, you are a baker).


6. Bake 365 for 30 minutes 'tented' with foil.
7. Bake another 10 minutes without foil to brown the top cheese.
View Printable Recipe.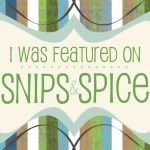 This post is partying here.