Hanging Headband Holder Tutorial


I guess it's time to admit… I have a serious problem… with headbands. I may even have more than Blair Waldorf. (Please don't get me started on how horrible this past season, was, I prefer to remember it as it was).

Well a long time ago I made these two headband holders. They were great but only held a small percentage of my collection. Then I discovered that the under $4 Forever 21 headbands were comfy and I pretty much couldn't control myself, as shown here.

So I needed a solution fast, before Andrew could realize just how many I had…

Enter the super awesome hanging headband holder that fits great on the inside of my funky triangle master bathroom closet. (Say THAT ten times fast).

Another note, this will also work well for barrettes and clips, but I already have a hanging ribbon on my towel bar for that… (Did I just sound about 5 there?)

Don't wanna make one, but need one? Buy One Here




Long Length of wide ribbon (preferably with a stripe in the middle to keep you centered the easy way.

Long length of skinny elastic

2 3M command hooks to hang it

Some 'test' headbands handy to find the perfect 'loop size'
Steps:


First determine where you want to hang it, which will dictate how long you want it to be. Mine is almost 7 feet long since I made it almost the entire length of the door. But you could also hang this on the wall at a much shorter length.

Cut the ribbon to your desired length + 4." so that you can fold under the edge and create a 'loop' for hanging.

As shown below, pin your elastic to the center of your ribbon, double fold the edges under (so no raw edges are hanging out), then sew your 'loop' shut where you see the white line.

Adding slack to the elastic as you go stitch the elastic to the ribbon. Since I have thick and skinny headbands I made small loops on the top half and bigger loops on the bottom. I went back and forth about 3 times to make sure it was a strong anchor. Continue until

you reach almost the end. (PS for the newbies you don't bother snipping your threads between the loops, just drag your ribbon on over, you'll snip the in-between threads at the end).



When you get to the end, repeat the finishing you did in step 3. Tucking under the raw edge.

Settle in with a good TV show and snip all your tiny little thread loops and tails…

Thread thin ribbon or string through the top hanging loop, and a piece of elastic through the bottom loop.

Stick a 3M command hook at the top of your hanging surface (Use a pretty hefty one, all those headbands (especially the metal ones) add up to pretty heavy. Hang the holder from the top loop with the string/ribbon. Then add a second 3M hook upside down to hold the elastic side, retie the elastic end if necessary.
(Notes on picture wrongness: The 3M hook I used on top crashed down after a month, so use a bigger one. Also at first I was blonde and used elastic top and bottom…which obviously just stretched out…)


For my really nice and delicate headbands I still needed one of the paper towel roll holders… Yes I have more than 7 feet of headbands. Here's a picture of how I store the rest of my hair accessories as well, ribbons in a hat box, clips on ribbon tied to the towel rod. Also be sure to check out my magnetic makeup board post.
Hope you enjoyed the tutorial and this helps your 'headband problems' be sure to email or link me your rendition, I'd love to see them!
If you love the idea but don't sew I try and keep them stocked in
my shop
or email me, they can be made a custom length and can ship cheaply.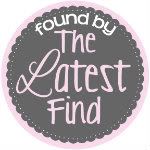 This post is partying here.